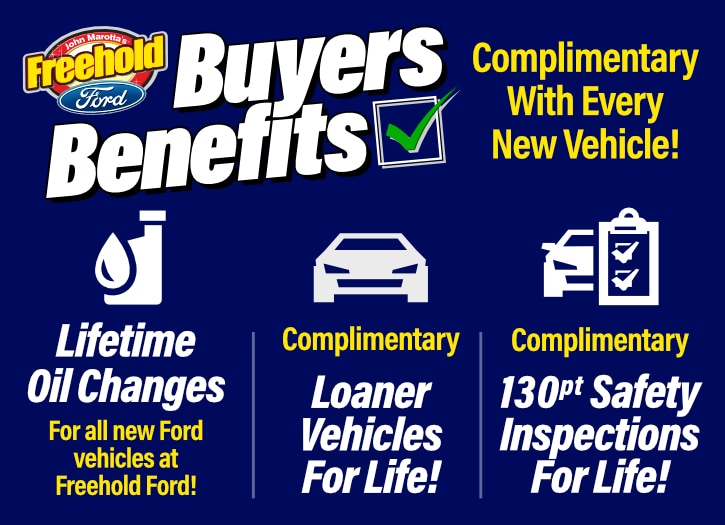 The Freehold Ford Buyers Benefits is complimentary with the purchase or lease of any new and pre-owned vehicle from our dealership. Lifetime Oil Changes: includes one oil change at half the posted price; limit 3 per year; includes up to 5 qts of manufacturer approved oil, new oil filter, labor and disposal fees; retail value varies from $49.95 to $89.95; NEW CAR must be activated through Ford Pass within 60 days of sale to qualify. See your manual for interval details. CPO (Certified Pre-Owned) qualify for lifetime complimentary oil changes. Non-CPO cars do not qualify for complimentary lifetime oil changes. Vehicle Rentals: available with scheduled service visit; customer must reserve vehicle rental at time of setting appointment; vehicles available on a first-come, first-served basis. Battery Checks, Multi-Point Inspection, Tire & Brake Checks: performed during every service visit and available without an appointment during normal service hours. Service Shuttle: Available Monday thru Friday from 7:30AM to 4:00PM within 15 miles of the dealership. Call or Visit Freehold Ford for further details or questions regarding any points of the Freehold Ford Buyers Benefits.

Customer Review 7/22/19
"Purchase Of A New Lease" -Jam19
Just leased a 2019 Ford Explorer from Freehold Ford . I worked with Justin , Tom & Michael & they were all great to work with. Highly recommend them.
Questions About The Freehold Ford Buyers Benefits Program? Please Complete This Form or CALL 888-270-9524
For Turn-By-Turn Directions, Click On The Address Below